We will have scheduled maintenance on May 17th from 5:00 - 6:00 am JST, during which the website will not be accessible. We apologize for the inconvenience.
BUY NOW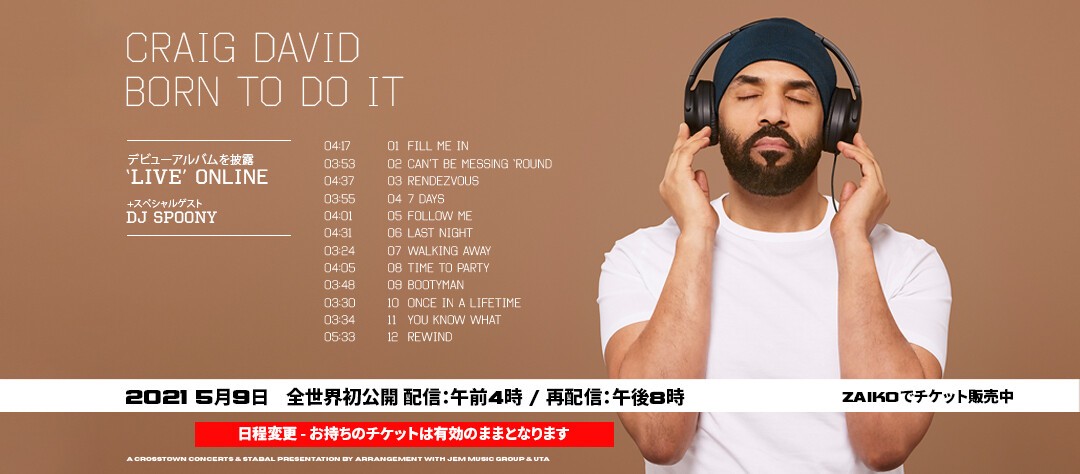 中文简介在页面下方
Scroll down for English information

クレイグ・デイヴィッド「ボーントゥドゥイット」2021年5月9日グローバルライブ配信!
絶賛されたファーストアルバムの20周年を記念して開催されます!!!
日本のファン向け特別チケット:
午前4時開催 ワールドワイドプレミア配信 
午後20時開催 再放送配信
ワールドワイドプレミア配信チケット+30日間アーカイブ配信、ライブバンドバージョンでの「キートゥマイハート」披露、アコースティックバージョンでの「フォータイムズアレディ」と「ヒューマン」披露、DJスプーニーとの独占インタビュー、そして、舞台裏映像の披露が特別特典が付きます。
彼は、デビューアルバムを最速でUKチャートにランクインさせたイギリス人ソロアーティストとして現在も記録を保持しています。今回の配信では、アルバムを全曲オリジナルのセットリストかつライブバンド版で披露されます。また、DJスプーニーによるクラシックUKガラージセットも行われます。
 
クレイグは「このアルバムは僕の全てです。現状ツアーを実施できませんが、20周年を祝うべく何か開催したいと思っておりました。このアルバムは僕のキャリアの中で重要な部分を占めている為、アルバム全曲を披露できる機会を頂けるなんて思ってませんでした。本当に特別な時間になると思います。20年間本当に暖かく応援して頂き、ありがとうございます。凄い!」とコメントを残しました。
 
デビューアルバム「ボーントゥドゥイット」で著しく名を残したことをきっかけに、自身のジャンルを定義したと同時に、イギリスで最も愛されているアーティストの一人になりました。クレイグはデビュー以降ずっと独自かつ本格的なイギリス音楽を残し続けています。
 
UK音楽史上での著名アーティストとして世界的に波を起こし、また、その後UKチャートに歴史を残したことにより、最も成功したアーティストの一人となりました。彼のアーティスト人生を変えたアルバムのリリース後20年、クレイグは再びチャート1位として返り戻り、国民の心を射止めました。最新アルバム2枚「フォロイングマイインスティテューション」と「ザタイムイズナウ」では15億回再生された記録を保持しています。
--
その他ご不明な点がございましたら、お気軽にお問い合わせ下さい。
サポート!
--
Craig David "Born to do it" in a Global Livestream concert on May 09th 2021! 
In celebration of the 20th anniversary of his critically acclaimed first album!!!
With special tickets for the Japanese fans:
Worldwide Premier Streaming  at 4AM
Rebroadcast Streaming at 8PM
Worldwide Premier Streaming Ticket + 30 days archive with a bonus features including a live band version of 'Key to My Heart', acoustic versions of '4 Times A Lady' and 'Human', as well as an exclusive interview with DJ Spoony and behind the scenes footage.
Still holding the record as the fastest selling debut album by a British Male Solo act in UK Chart history, It will be the first time that Craig's performed the critically acclaimed album in full, live with full band and in the original running order of the tracklisting. The show will also feature a Classic UK Garage set from DJ Spoony. 
Craig says, "This album means the world to me. I wanted to do something to celebrate the 20th anniversary and as touring live isn't possible, I couldn't let the anniversary go by without marking it in some way. Sharing this album with you has been one of the highlights of my career and I never thought I would get the opportunity to do the whole album in full like this - It's going to be really special. Thank you for all the love and support these past 20 years...wow!"
Since bursting onto the scene with his unforgettable debut album, 'Born To Do It', a genre-defining record that established Craig David as one of the UK's most loved artists, Craig has since remained at the helm of his own unique, authentically British sound. 
Making waves across the globe as the voice of one of the most pivotal eras in UK music, and in turn, one of the most successful artists in UK chart history. In the 20th year of the release of the album that changed his life, Craig has since catapulted back into the charts and into the nation's hearts with a string of chart hits and a Number 1 album marking the beginning of his triumphant return, which has since seen over 1.5billion streams on his last two albums 'Following my Intuition' and 'The Time is Now', alone.
--
Questions?
We understand you may have questions about this and the show in general. Our Customer Support team are here to help, you can reach us
here!
--
為了紀念首張熱銷專輯出版20週年,Craig David「Born to Do It」即將於2021年5月9日進行全球線上演出!
至今仍是出道專輯最快入選英國排行榜的紀錄保持人。將在此次線上活動中,表演專輯中所有收錄曲的原創及演唱會版本。除此之外還包括了DJ Spoony編曲的Garage版本。
Craig表示:「此張專輯是我的全部。現在雖然無法進行巡迴演出,但為了紀念20週年,還是希望能準備些特別活動。這張專輯對我來說是音樂之路最重要的一部分,非常開心有機會能表演專輯中所有的收錄曲。我相信一定會帶來一段特別的時光。謝謝大家20年來的支持。」
--
为了纪念首张热销专辑出版20週年,Craig David「Born to Do It」即将于2021年5月9日进行全球线上演出!
至今仍是出道专辑最快入选英国排行榜的纪录保持人。将在此次线上活动中,表演专辑中所有收录曲的原创及演唱会版本。除此之外还包括了DJ Spoony编曲的Garage版本。
Craig表示:「此张专辑是我的全部。现在虽然无法进行巡迴演出,但为了纪念20週年,还是希望能准备些特别活动。这张专辑对我来说是音乐之路最重要的一部分,非常开心有机会能表演专辑中所有的收录曲。我相信一定会带来一段特别的时光。谢谢大家20年来的支持。」
share
Pop-out